Plymouth, Wisconsin (August 1, 2019)
– US RaceTronics' ProAm duo of Damon Ockey and Jacob Eidson are coming into this weekend's races at Road America with the goal of extending their points lead and grabbing another overall podium finish in the No. 09 Lamborghini of Vancouver. The pair have three class wins, including their third-place overall finish in Round 2 at Barber Motorsports Park, and a second-place finish to give them a 23-point advantage coming into Road America.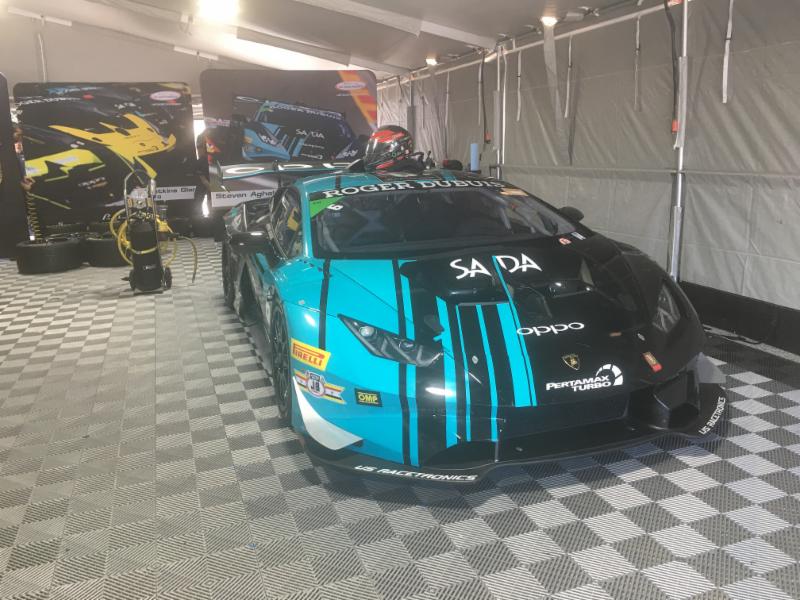 The team's Am driver, Steven Aghakhani, is looking for his third straight win on Saturday after wowing the paddock with wins in his first two races in the series. Aghakhani, who is the youngest driver in the series, made quiet the impression in his Lamborghini Super Trofeo debut at Watkins Glen. The 16-year-old not only won both races, but also finished fourth overall on Saturday and sixth overall on Sunday behind teammates Ockey and Eidson. Aghakhani is looking for his first overall podium at Road America in the No. 6 Lamborghini of Beverly Hills.
Also looking for the top-step of the overall podium this weekend are USRT's Pro driving duo of Patrick Liddy and Bryce Miller. Both drivers have had success here in the past and are confident that they have what's needed to get back on the podium with the goal of winning it all behind the wheel of the No. 34 Lamborghini of Beverly Hills. The pair had some bad luck in both races at Watkins Glen with a blown tire in Race one and tire degradation causing issues in Race 2. The team and drivers are looking forward to a little redemption after missing both podiums at Watkins Glen International.
Coming off a successful Elephantea promotional event at Sri Lanka Days in Pasadena, Ron Atapattu has his sights set on an LB Cup podium this weekend. The driver of the No. 24 Elephantea Lamborghini of La Jolla has been getting better each weekend and has high expectations for the Road America rounds.
The weekend kicks off today with a promoter test, followed by two practice sessions on Friday. Qualifying is Saturday, August 3 at 8:00 a.m. Central Time with Race 1 going green at 2:05 p.m. Central Time. The final Lamborghini Super Trofeo race of the weekend starts at 10:55 a.m. Sunday, August 4, 2019.
Quotes:
Damon Ockey – "Jacob and I have a strong start to the season and are looking forward to Road America. US RaceTronics has done an amazing job with the car and set up. With limited practice it is nice to have the car so close to perfect at the start of each race weekend. Jacob has been a great co-driver with a ton of racing knowledge. Looking forward to a strong weekend."
Jacob Eidson – "Racing at Road America is always a special occasion and I'm extremely excited to see what a Lamborghini Super Trofeo can do there. I've had a lot of ups and downs at this track but it always makes for great racing and I can't wait to see what the weekend will hold!"
Steven Aghakhani – "We are extremely eager for Road America. We're feeling extremely confident about this race. The previous race at Watkins Glen was incredibly successful and it's such a reward to see all the hard work pay off in the results we had. I am really looking forward to bringing even more to the Road America race. Our goals are set much higher for this race and as we get to the end of this series every detail is monumental. We are prepared to make history at Road America."
Patrick Liddy – "Bryce and I are looking forward to a little redemption at Road America after our bad luck at Watkins Glen! I know the track well and I'm looking forward to putting on a show this weekend."
Bryce Miller – "Road America is another one of those special, old-school, truly American tracks. Always fun getting to Elkhart Lake and getting back behind the wheel. Last time I was here in 2017 I managed to come away with a 1st and a 2nd so I am really hoping Patrick and I can get the most out of the car and fight for some more podiums this weekend. It is going to be all about maximizing our exits from some of the tighter corners. If we can manage that, we should be okay."
Ron Atapattu – "Wild Elephant is ready for Road America. We had the Elephantea car at a great event a couple of weeks ago in Pasadena, but I can't wait to get it back on the track. I'm really looking forward to this weekend. It should be fun!"
Shane Seneviratne – "We're pretty happy with the results from Watkins Glen for the ProAm and Am cars, but we had a couple of issues with the other two. This weekend we're focused on making sure that all four cars are able to compete at the highest level. I think we have a shot at more podium finishes this weekend and I know that the drivers, engineers and crew are going to do everything possible to bring home trophies in each class."