Monrovia, California (Thursday, November 2, 2017) – USRT development driver Steven Aghakhani had not one, but two big events in October. The La Cañada High School student was on track at Thunderhill Raceway in Willows, CA early in the month for the NASA Western States Championships where the young driver finished third. Then, in his final two races of the NASA SoCal season this past weekend, Aghakhani's back-to-back second-place finishes secured the NASA SoCal Super Unlimited class championship for the 14-year-old. Most impressively, these major accomplishments came in his rookie season.
The Southern California native became the youngest podium finisher in the history of the NASA Western States Championships, as well as the youngest champion in the NASA SoCal Region. Aghakhani spoke about both events and his first head-to-head racing season.
"It was pretty cool to race at Thunderhill and try a different track," said Aghakhani. "I think it's definitely a fun and very fast track. It was a good place to allow the Huracán to really stretch her legs.  We need to definitely come back here for more testing and I hope that there is another race out here. I'd love to come back and battle with some more competition."
"This was a great first season for us," Aghakhani added. "We came; we saw; we conquered. Everything worked out. We hit our marks and I managed to podium at every race. That was what we needed to do in order to finish first in the overall points. I'm ready to do it again next season. A huge thanks to all our sponsors and to my team for all their hard work to give me a great car. My goal is to keep learning and to prepare for my Lamborghini Super Trofeo debut."
Aghakhani's driver coach, Bryce Miller, was pleased with Steven's performance at these latest events, as well as throughout the year.
"What can I say besides we had a great time these past couple of weekends," Miller said. "Steven did a phenomenal job behind the wheel and brought home a solid P3 at Thunderhill and two second-place finishes at Buttonwillow. It has been a great first year for him and we're looking forward to continuing our development work together. We're so grateful to have him onboard our team."
USRT team owner Shane Seneviratne was proud of Steven's success in his NASA rookie season. He anticipates a great future for the young driver.
"Steven did an amazing job this season and we're all very proud of him," Seneviratne said. "He's learning every time he gets behind the wheel and continues to improve session by session. We're looking forward to him continuing to progress as he prepares for the next step of his career with support from his sponsors including Sada Systems, RX Unlimited, LPA Lighting, Steamers Cleaners, Magic Laundry Services, Reflective Strategy, Protective Film Solutions, Forgiato Wheels, turnkeyx.com, LF Illuminations, Shift Sector, Pro Automotive, and Tax and Business Consulting Group."
Aghakhani started racing go-karts when he was 7 after spending time at the race track with his dad. His father, Armik Aghakhani an avid racer and car collector, has been fully supportive of his son's passion for racing. When Steven was ready to move from go-kart racing to exotics, he began training with Michael Essa (2013 Formula Drift Champion). Steven was named US RaceTronics' development driver at the age of 13 and has set record speeds for his age. He continues to make his mark on the sport as he becomes the youngest competitor to enter and podium in events across the country.
With a clear goal in mind of becoming the youngest driver to compete in the Lamborghini Super Trofeo North America Series, Steven will be rooting for the USRT LBSTNA team as they wrap their season with their final two races on Friday, November 17, 2018 in Imola, Italy along with the World Finals on November 18 – 19, 2017.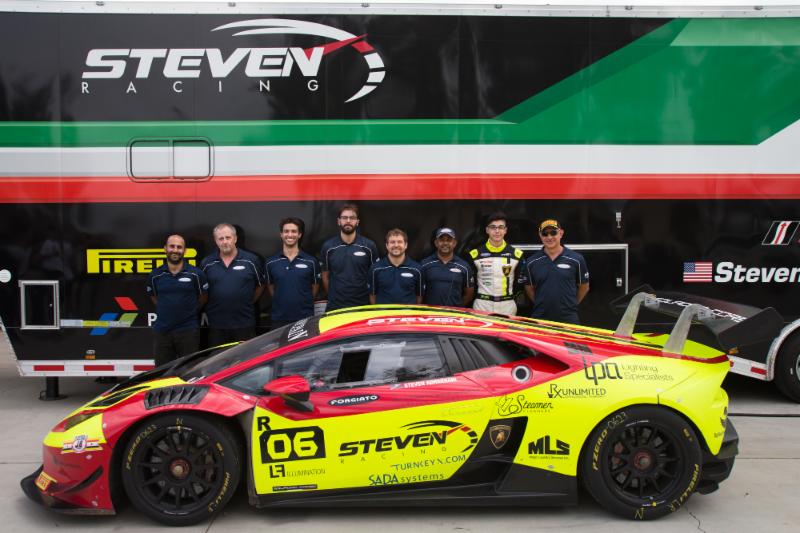 More information on Steven's amazing journey and accomplishments can be found at:
stevenracing.com
.
Follow US RaceTronics and their drivers all season at:
####
                                                                                  Photos Courtesy of Daniel Schenkelberg